My kittens are raised with a great deal of love and care. I am as concerned about their health, stamina and personalities as I am their beauty. My goal and primary reason for breeding Abyssinians is to maintain and improve upon the breed and to provide you with a delightful addition to your life for many years.

All cats which come into my cattery are tested for feline leukemia virus (FeLV) and are negative. Do not introduce a new cat into your household without being certain that it is FeLV negative. I also expect you to keep your cat safe from disease and parasite exposure, as well as automobiles and theft1 by not allowing it outside of your home or secure outdoor area.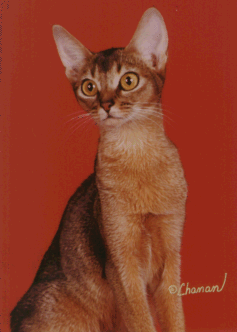 Your kitten has had a complete physical examination by my veterinarian and is fully vaccinated (last shots are given after 12 weeks of age) for panleukopenia, rhinotracheitis and calicivirus. Upon the advice of your veterinarian you may want to have a booster shot and then begin the annual routine.
Abyssinians in general are a hardy breed; however, as with humans, there is always the possibility of inherent genetic factors that may affect the health and/or expected life span of your cat. A primary goal and difficult challenge in breeding is to provide cats free of inherited health problems. Some conditions, although not unique to Abyssinians, have been recognized in the breed.
Abyssinians do have a tendency toward gingivitis (inflamed gums). Your cat's gums and teeth should be examined periodically and tartar removed when necessary. A small percentage have the more rare type B blood, which could cause a reaction if a blood transfusion were ever necessary and precautions were not taken. Some Abyssinians can have allergic reactions to food or fleas, which might require extra care or diet restriction. Patellar luxation (loose knee joint) has been identified in the breed and sometimes requires surgical correction. Progressive retinal atrophy (PRA), although now rarely seen, has been reported and some Abyssinians are predisposed to renal amyloidosis (a disease mainly affecting kidney function).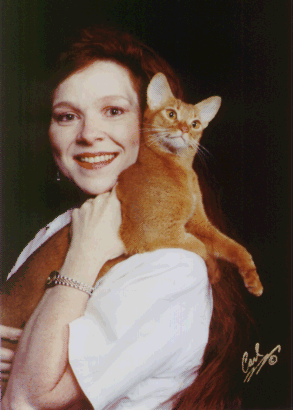 I have been breeding Abyssinians since 1985, and am always pleased to hear about kittens sold who are approaching old age. I am especially interested in the life span of my cats and would very much appreciate an occasional note and picture letting me keep in touch with your cat. I particularly want to know if your cat should die young. If this should occur before the age of 3 years, from any cause which would reasonably be suspected as an inherited condition, I will replace the kitten after either a written pathology report or consultation with your veterinarian.
Stephanie S. Hale



Join the conversation at my chat page, Le Chat Abyssinians, and meet other Abyssinian owners.
Do you want to find out more about Diva Abyssinians? Simply fill out the form below and click "Submit" to send it my way.
If your web browser does not support forms, click "Go e-mail" below to pull up your browser's e-mail window--but please do be sure to include all necessary contact information so that we can responsed to your request without delay.
If your brower does not support e-mail, contact us through your usual e-mail channel at DivaAby@Yahoo.Com
Thank you again--I look forward to the opportunity to "meeting" you!


If your browser doesn't support forms or if you have additional comments,


---